We have all completed cosmetology school so our Tight Curl Mastery Workshops were created to enhance and deepen your skill in tight curls.
What we weren't taught in school was how to build our businesses. Whether we are an employee, booth renter, suite renter, or salon owner many of us lack a fundamental grounding in how to build sustainable + profitable business.
As licensed and practicing cosmetologists we are already experts (sme's) or well on our ways to becoming one with technical education. But this is 2020 and everything is digital.

Even if you just want to grow by word of mouth, word of mouth is digital. Our ability to understand, adapt, harness and engage in the digital space enhances our ability to collect more coins and curate the clientele we desire.
One CIK Alum stylist has doubled her behind the chair revenue as a part time stylist, another increased her monthly revenue over 50% since May and is now looking to take her mobile styling business to a permanent rental space
Execute! is the culmination of two years of teaching business alongside the technical. Shifts in the economy and technology in 2020 have now required that we shift and give our CIK Business Framework its due in our first business retreat. 2/3 of our framework is focused on key business topics:
Framework

• Maximize Your A.T.M.
Which currency is the most valuable? Your Attention/Energy, Time, or Money?
We determine your primary currency to determine how you proceed in business as a curl stylist.
• Work Your Chair
Streamline your business to maximize revenue behind and beyond the chair. We uncover your ideal target market in order to:
Attract your dream client
Create your "love to do" menu
• Price For Profit
Affordable means nothing If you can't stay in business
We reveal your balls to the wall revenue goals and develop a pricing, product, and packaging plan to achieve it.
• Own Your Online Real Estate
You must be Googleable with receipts
Forget about branding, Lets Talk Visual Communication across all platforms and why it is imperative to bring your customer on a digital journey before they ever sit in your chair.
• Communicate Your Value
Fear & Money don't mix, you must understand and clearly articulate the value you bring to your clients hair lives.
We crafting compelling copy for the curls and the culture that is clear, authentic, and persuasive.
• Set Your Systems
A failure to plan is a plan to fail.
We dig into your business model, intellectual property, and legal structures with a small business attorney to discover where you are leaving coins on the table.
You will leave the Execute retreat with systems and processes to bring clients in and through your business to create an impactful raving fan engine. You'll raise your prices to the true value of your services, and initiate alternative revenue generating projects complete with a 90 day action plan and follow up for execution.
Your Instructor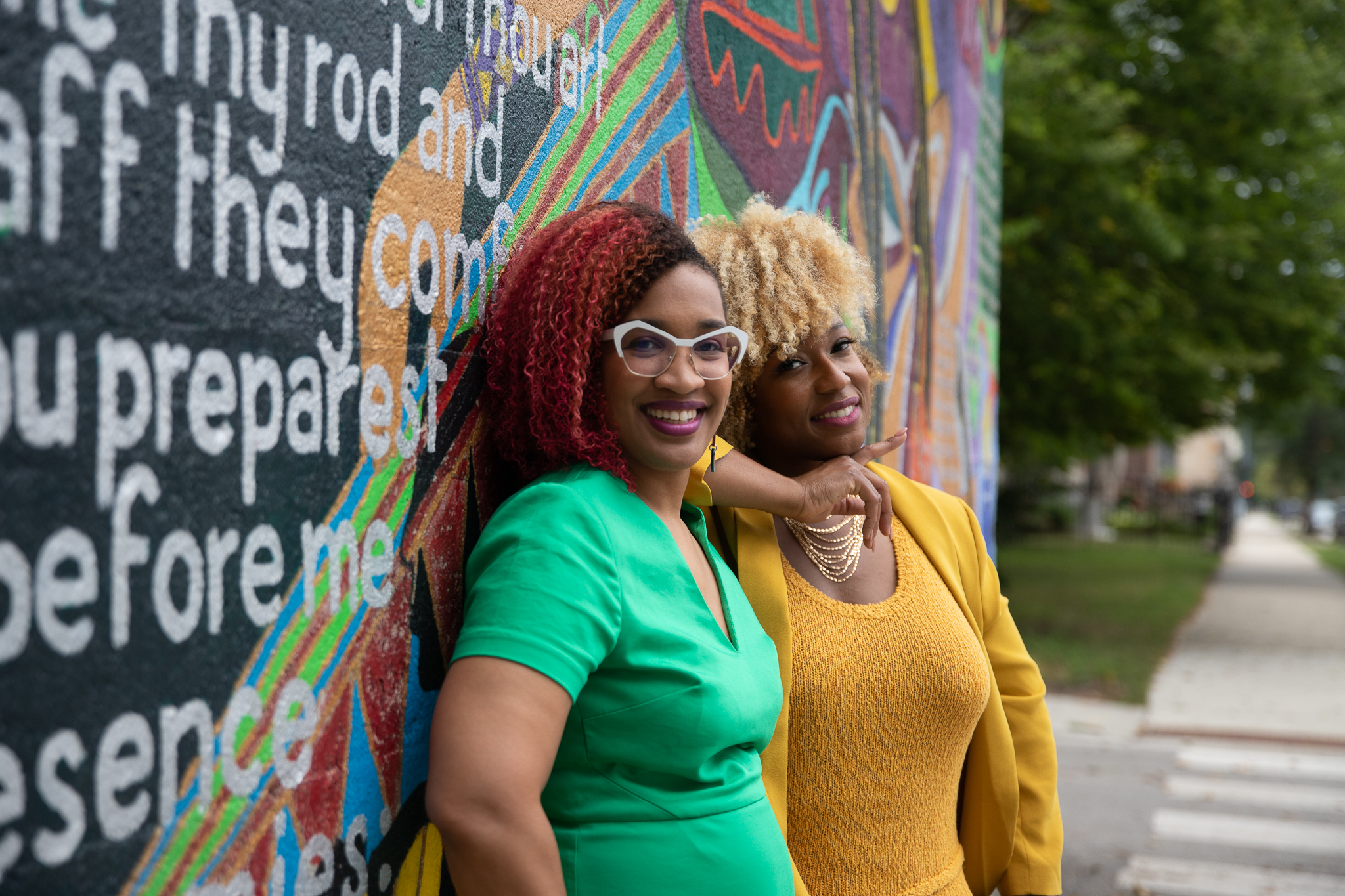 We are Aeleise (pink hair) and Aishia (blonde hair) practicing natural hair stylists, moms to tiny humans, upsetters of the Internet, beauty industry disrupters, lovers of fact based hair care, tight curl experts, brand agnostic educators, Authoress behind Wash Your Damn Hair and just your overall snarky girlfriends who really know our ish. Our hair is only picture ready about 60% of the time, but we absolutely adore the curls we get to care for in the salon and online. We're just here to help you create a joyful, simple, and fabulous experience with your black girl curls.



Frequently Asked Questions
When does the course start and finish?
The course is May 3rd + 4th 2020. You will receive your pre-work April 20th
How long do I have access to the course?
You will have access from the pre-work start date of April 20th, to the end of the live session May 4th.
What is your refund policy?
We would never want you to be unhappy! If you are unsatisfied with your purchase or cannot attend, please contact us as soon as possible. We will offer a full refund of your paid in full registration investment within 7 days of registering for class if you have registered more than 30 days prior to the live class start date. We will offer a refund of half of your paid in full registration investment if you need to cancel past 7 days after registering and up till 30 days prior to the live class date. If you register for class within the 30 days prior to the start of the live class, you have 72 hours after registration to contact us to receive a refund of half of your registration investment. Registrations made within 30 days of the live class start date are not eligible for a full refund. There are no refunds for class cancellations 30 days or less prior to the live class. Any partial payments made on a payment plan are not refundable as well. You have the option of paying a $150 admin fee to attend a later class date in the same calendar year.
Can I attend if I haven't taken a previous Cut It Kinky Class
At this time Execute! is only open to alumni of digital and live Cut It Kinky classes or those already enrolled in CIK classes in 2020