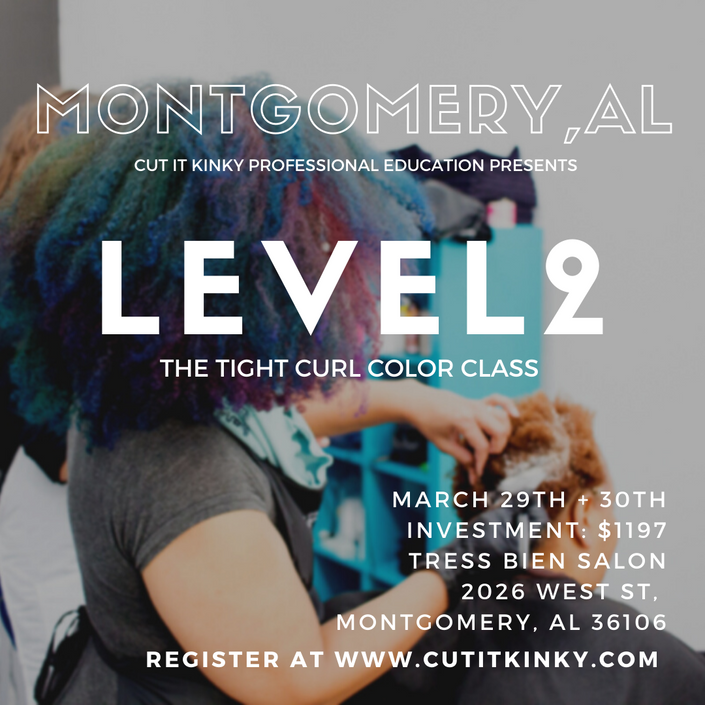 Level 2: The Tight Curl Color Class
a professional color journey for our very dark brown, natural LEVEL 2 clients with tight curls
Level 2 means dark brown in hair language. It can also translate to fear of the unknown when embarking on a color journey for our natural level 2 clients with tight curls. In formulating for our clients we often are faced with developing a complementary finished product on hair that my have product buildup, previous boxed color, henna, and/or struggling with a lack of maintence and dehydration.
Level 2 is the answer to how Cut It Kinky co-founder Aeleise addresses these issues in the salon with potential and current color clients while maintaining an intact tight curl pattern.
Level 2 will be held in Montgomery, AL at Tress Bien Salon March 29th + 30th, 2020

In this workshop we will address
working with undertones in the natural level
formulating for proper lift levels and pigment load
developer strength and how to do almost anything with 20vol or lower
decolorizing safely with lightener
toning accurately
unicorn formulating and application
formula consistency and choosing the right product for the job
elements of a thorough color consultation
educating clients on maintaining color at home
developing a care plan that will turn any client into a color client
Your Instructor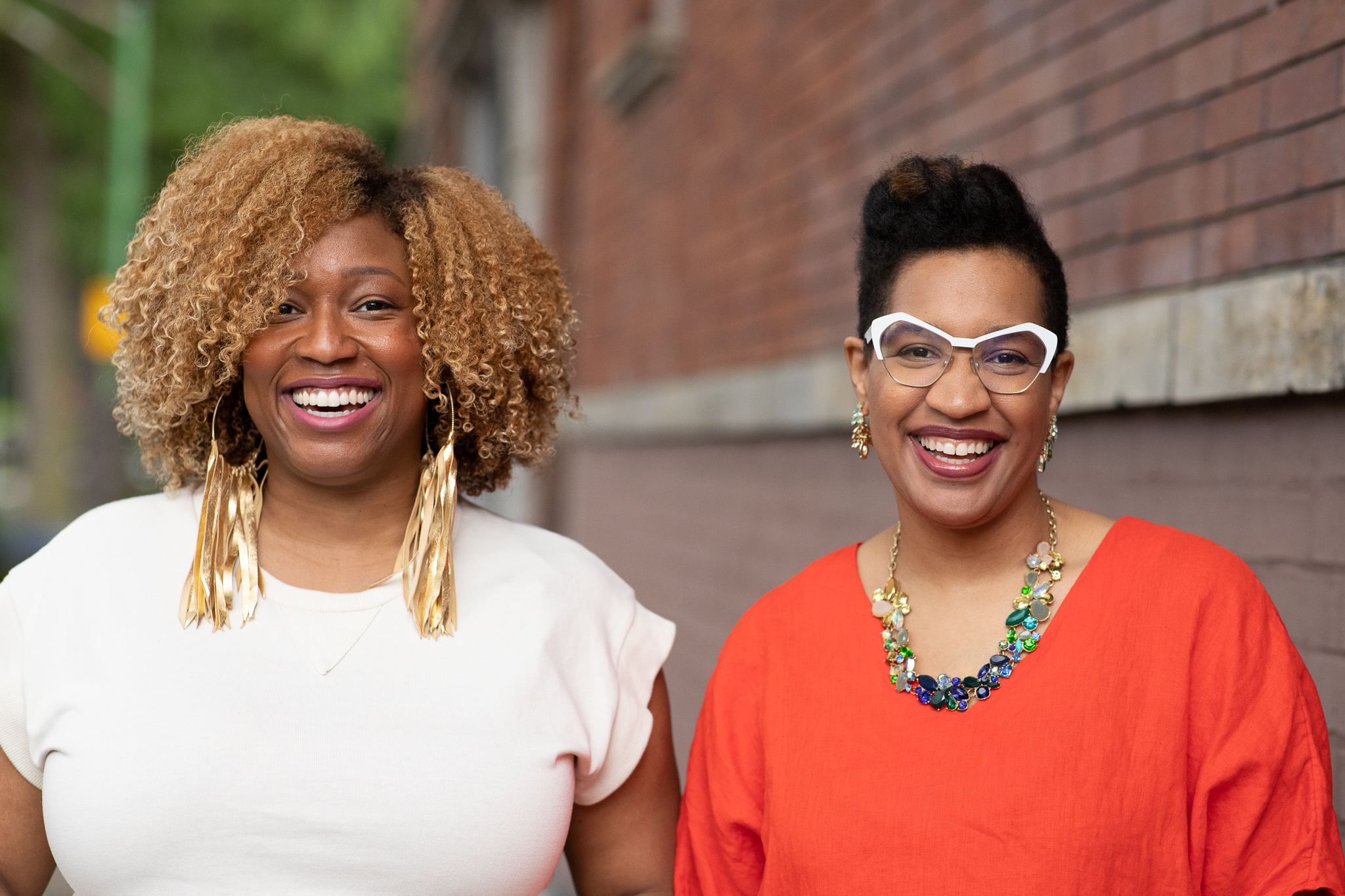 We are Aeleise and Aishia practicing natural hair stylists, moms to tiny humans, upsetters of the Internet, beauty industry disrupters, lovers of fact based hair care, tight curl experts, brand agnostic educators, authors of Wash Your Damn Hair and just your overall snarky girlfriends who really know our ish. Our hair is only picture ready about 60% of the time, but we absolutely adore the curls we get to care for in the salon and online. We're just here to create a joyful, simple, and fabulous experiences with tight curls.



Frequently Asked Questions
When does the course start and finish?
The course starts is May 3rd + 4th
How long do I have access to the course?
May 3rd + 4th
What is your refund policy?
We would never want you to be unhappy! If you are unsatisfied with your purchase or cannot attend, please contact us as soon as possible. We will offer a full refund of your paid in full registration investment within 7 days of registering for class if you have registered more than 30 days prior to the live class start date. We will offer a refund of half of your paid in full registration investment if you need to cancel past 7 days after registering and up till 30 days prior to the live class date. If you register for class within the 30 days prior to the start of the live class, you have 72 hours after registration to contact us to receive a refund of half of your registration investment. Registrations made within 30 days of the live class start date are not eligible for a full refund. There are no refunds for class cancellations 30 days or less prior to the live class. Any partial payments made on a payment plan are not refundable as well. You have the option of paying a $150 admin fee to attend a later class date in the same calendar year.
If I take Level 2 will I become a Certified Cut it Kinky Stylist?
No. At this time Cut It Kinky does not offer a certification class or program. At the conclusion of Level 2 you will receive a certificate of completion denoting that you invested time and energy to complete this class. You will also receive an invitation to be listed on the CIK Alumni Directory and an invitation to join the Cut It Kinky Digital Mastermind Community.
Can I register for this Workshop if I am not a licensed cosmetologist?
If you are a US resident, No. It is imperative that all attendees who are US residents are licensed cosmetologists or cosmetology students who are more than 50% through their coursework. If you hold a natural hair license in your state, that state must be one of the few that will allow you to shampoo, condition, and cut hair per state board. If we find that you are a US resident and have registered for this class and do not meet the requirements above you will be removed from class without a refund. If you are an international stylist this policy does not apply to you.
This course is closed for enrollment.